Tips For Throwing A Red-Carpet-Worthy Oscar Party
We are in full "awards season" swing, and the main event is almost upon us-- the Oscars. If you are hosting an Oscar party this year, here are some fun tips and suggestions for filling your night with glitz, glam, sparkle, and maybe even a golden trophy.
1.Red Carpet and Photo Opps
Give your guests the real Hollywood treatment from the moment they arrive at your door with a red carpet. You don't have to buy an actual carpet, either. Head to the craft store and get some red fabric that's on sale, or even a couple red table clothes laid out nicely on the ground will work out perfectly.
Before guests enter your door have a fun backdrop or step-and-repeat set up to get everyone's pictures! Sparkly curtains, glitzy fabric, or shiny streamers can all act as festive backgrounds. Come up with a custom hashtag too so that when your guests post their photos on social media it's easy for everyone to search and see photos from the party.
2.Have a Black Tie or Movie Themed Dress Code
It's Hollywood's biggest night! The celebs are all breaking out the designer dresses and (rented) diamonds, so why not get dressed up too? Websites like Rent the Runway are great places to pick up designer attire for a special event and really feel like a movie star for the night.
Another fun theme is to have people come in outfits inspired by a nominated film and have others guess what they are representing. This year could be especially fun with movies like "Black Panther," "Bohemian Rhapsody," and "A Star is Born" all being nominated.
3. Go for the Gold
Everyone at the show is going to have their eye on that gold statue, so make your whole party have a gold theme. Get some bouquets of gold balloons, have gold confetti and glitter on the tables, purchase gold table cloths, plates, and cutlery, and add some gold embellishments to your centerpieces.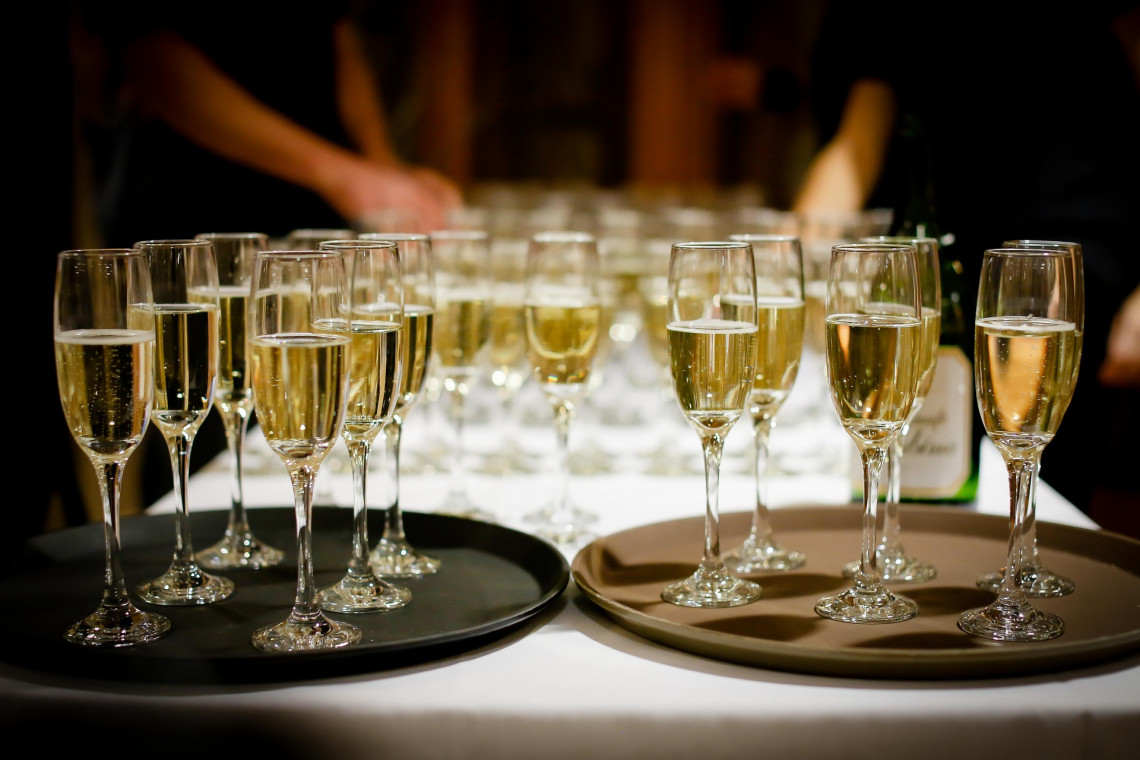 4. Have a Movie-Themed Featured Cocktail
Treat your guests to one of these fun cocktails, or have a champagne bar set up with a variety of juices to toast to the big winners. Some of our favorite cocktail recipes include:
The Red Carpet
Ingredients:
3 oz. creme de cassis

1 bottle Champagne

1 orange for zesting
Directions:
Right before serving, pour 1 tbsp. creme de cassis into a cocktail glass.

Top with bubbly, and garnish with orange zest! Serves 6.
The Leading Man
Ingredients:
2.5 oz. vodka or gin

1/2 oz. dry vermouth

1/2 oz. olive juice
Directions:
Add all ingredients into a cocktail shaker filled with ice.

Stir and strain into a chilled cocktail glass

Garnish with olives
The Leading Lady
Ingredients:
1/2 fresh lemon

1 1/2 oz. raspberry vodka

1 1/2 oz. citrus vodka

1 1/2 oz. orange liqueur

2 oz. lemonade

Fresh raspberries, for garnish

Ice

sugar (to rim the glasses)
Directions:
Ahead of time, skewer fresh raspberries and place in freezer (for garnish)

Fill the cocktail shaker with ice, and squeeze in the juice of 1/2 of a lemon

Next, add the vodkas and orange liqueur

Top with the lemonade and shake rapidly for 10-15 seconds

Sugar the rims of two chilled cocktail glasses, then pour the cocktail into each glass

Garnish with frozen raspberry skewers
5. Get Your Guests Guessing
Print out a list of all of the categories and nominees and have your guests fill it out with their guess for the winners right when they arrive. Give out some fun little prizes for each category, and then have a bigger prize, like a movie theater gift card, for the person who got the most answers correct. This is a fun way to keep everyone engaged in the show, too!