Best Places to See the Super Bloom This Year
We are all in store for a very special treat this spring with another stunning super-bloom popping up throughout California.
The wet, rainy, and snow-filled winter we had created just the right combination of conditions for a super bloom that is forecast to be even more vibrant and stunning than the last one we had in 2017.
If you are looking for a place to see the super-bloom in person, you are in luck because there are a lot of options throughout the entire state to go check them out. Here are some of our favorites.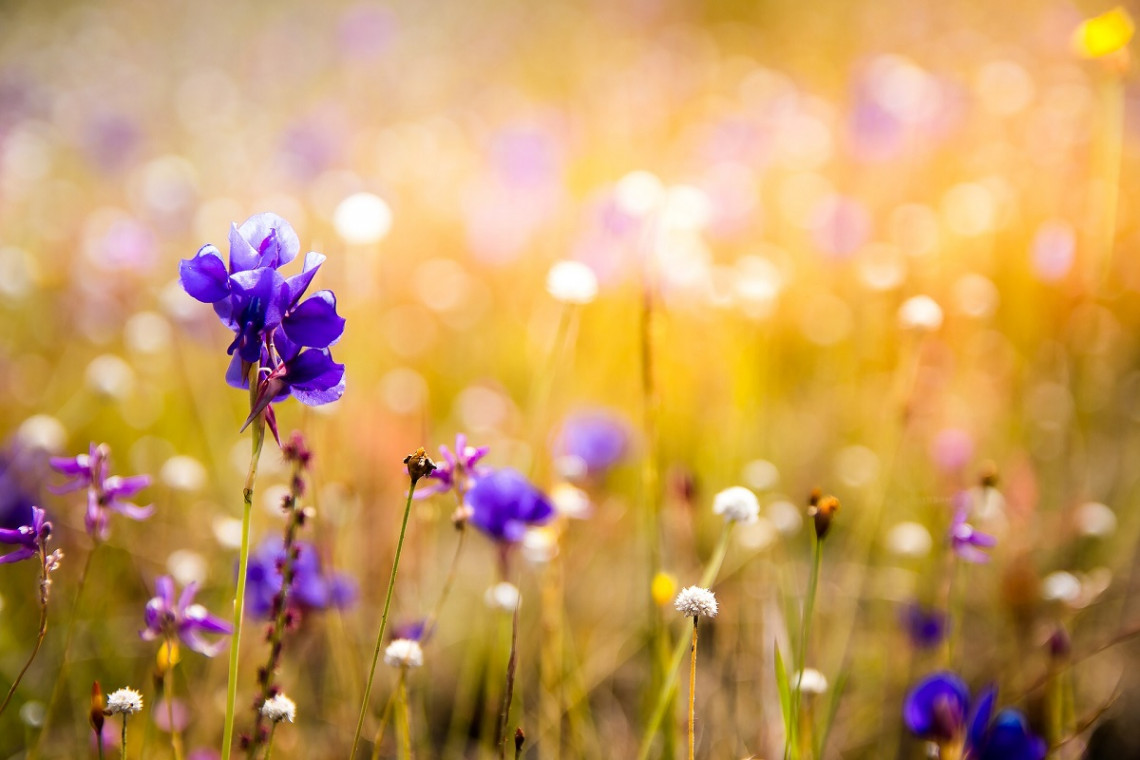 Explore the Flower Fields of LA County
The peak season for areas in Los Angeles County to see the flowers is from mid-March to early April. If you're staying coast-side, head over to Malibu's Point Mugu State Park in the Santa Monica Mountains. The Chumash Trail hike going up from PCH will allow you to see poppies, lupine, and Mariposa lilies. The farther up you go you'll find more exotic varieties like chocolate lilies and blue globe gilia.
Lancaster is another popular destination to see the blooms. The hills just west of the city explode with bright orange California poppies. The Antelope Valley California Poppy State Reserve well welcome thousands of people coming to see the jaw-dropping display along the eight miles of trails that go through the reserve. Most people will stay on the 2.5-mile South and North Loop and might take a little trip over to Tehachapi Vista Point as well.
Discover the Many Blooms in the Desert Region
The peak season for flowers is in early March to early April. Over 200 flowering plants put on a stunning show at Anza-Borrego Desert State Park in east San Diego County. We have gotten over seven inches of rain since July 2018 so there's a good chance the bloom will be the most magnificent showing in 20 years.
When you're visiting you can hike the 1.5-mile Borrego Palm Canyon Trail from Borrego Palm Canyon Campground and observe yellow brittlebush, purple desert lavender, and flaming-red ocotillo. There's also a 3-mile hike into Hellhole Canyon and you can see some flowering barrel cactus, lupine, phacelia, and a picturesque waterfall at Maidenhair Falls. Thousand Palms' Coachella Valley Preserve and Mecca's Box Canyon Road will have lupine and desert sunflowers as well.
Enjoy Endless Wildflower Landscapes at Joshua Tree
Joshua Tree National Park is full of gorgeous landscapes at all times of the year, and it's set to have some very impressive blooms on display this year as well. The part even got some snow this year so flowers at higher elevations could still be blooming all the way into June. Near the southern part of the park, you'll be able to find bladderpod, brittlebush, creosote, lupine, and poppies. It's best to take your flower hikes in the lower elevations in the south of the park, like on the Bajada Nature Trail, for example. If you plan on visiting later in the spring, head over to the Black Rock Canyon or the Wonderland of Rocks area to see beavertail cacti will bright and vivid magenta pink blossoms that you can see from as far as 50 yards away.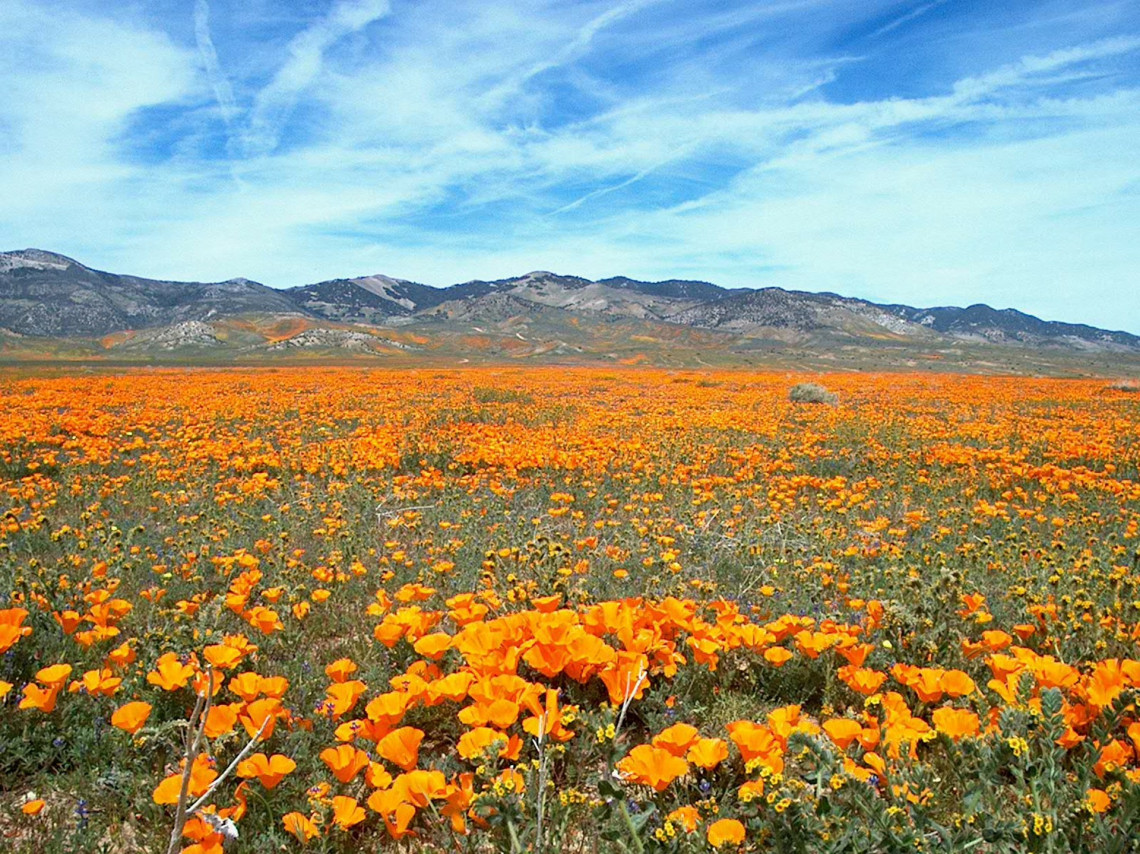 The Super Bloom is Filling the Central Coast, Too
Peak season for the Central Coast of California for wildflowers is mid-March to mid-April. If you head about sixty miles east of San Luis Obispo you will find Carrizo Plain National Monument that holds the largest native grasslands to remain in California. Among the roaming tule elk and pronghords that roam the Carrizo Plain will be a landscape that is covered with flowers like tidy tips, owl's clover, and California poppies. Flower lovers make it a point to visit this area to see rare species like San Joaquin woolly-threads, kern mallow, and deep burgundy colored California jewel flowers.
Sixty miles east of San Luis Obispo, Carrizo Plain National Monument contains the single largest native grasslands remaining in California. In early spring, while tule elk and pronghorns roam, Carrizo should be nearly smothered in fields of tidy tips, owl's clover, and California poppies. Flower experts flock here in search of rare and endangered species such as San Joaquin woolly-threads (tiny yellow flowers), kern mallow (delicate pink), and California jewel flower, whose wine-colored buds open into white flowers.
Head to High Sierra Park to See the Summertime Blooms
At High Sierra, the peak season to visit is in June and July. Visitors can hike the Sagehen Creek Trail near Truckee and see some western peonies, countless pink shooting stars, and sometimes what seems to be an infinite amount of blue camas lilies filling up Sagehen Meadow.
A good hike to take in July this year will be along Carson Pass Trail (east of Kirkwood Ski Area) to Winnemucca Lake. The volcanic soil supports a lush and vibrant flower tapestry of Indian paintbrushes, blue flax, and Sierra lilies.