A Behind the Scenes Look at Having Chickens in Long Beach
It's true we have our fair share of farmers markets here in Long Beach. There are plenty of community gardens and back-yard gardeners growing their own produce, too. But have you ever considered adding some chickens to the mix? Nothing beats a farm-fresh egg, and once you have one it's hard to go back to the store.
We caught up with one of our former clients, Sean, up in Wrigley, and he was gracious enough to show us around his backyard and introduce us to his chickens. He showed us where they sleep, what they eat, where they hang out, and more. If you're thinking about having some chickens, here's a behind the scenes look at what it's actually like.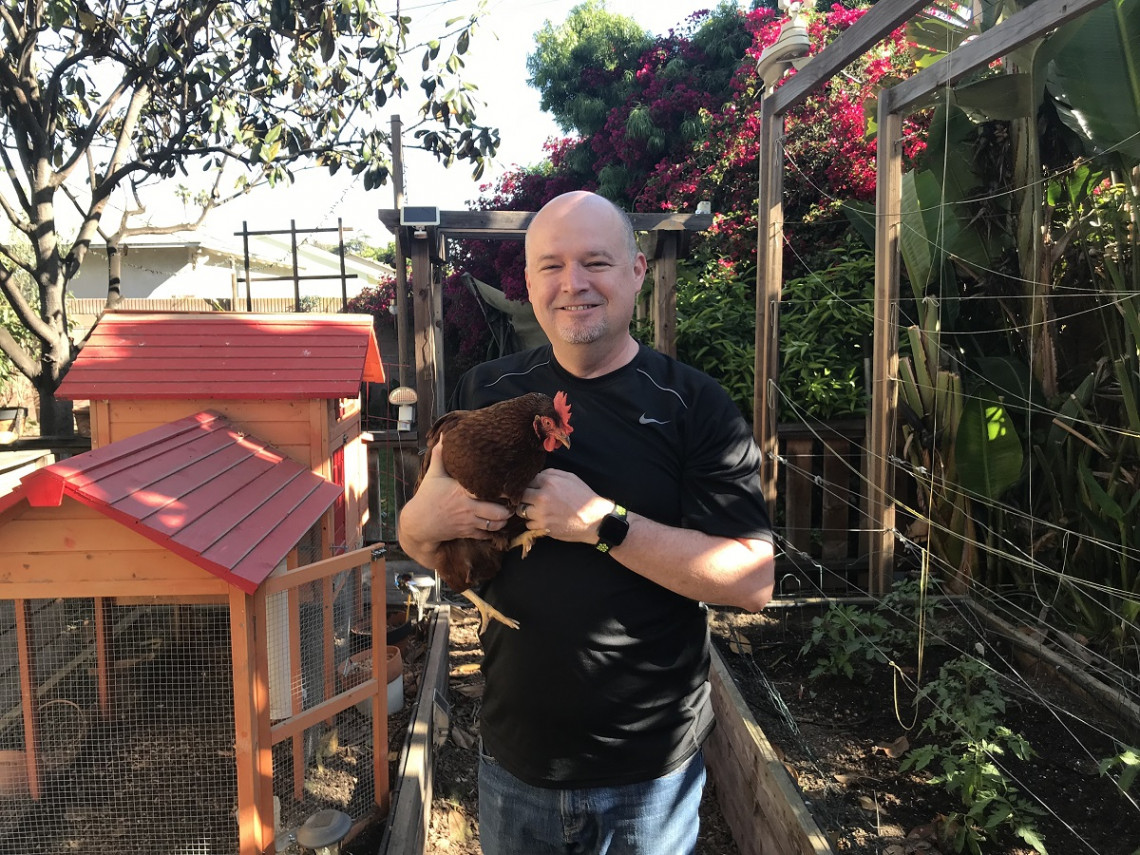 What are the rules of the city?
There really aren't as many rules as you might think, and they're pretty simple. First, you can only have hens and not roosters because roosters are far too loud. Second, you can only have up to four chickens without needing a special permit. Third, the chicken coop needs to be 10 feet from any dwelling. Sean and his partner Bong's property met all the requirements, so they were ready to get some chickens.
Meet the Chickens
The great chicken adventure started for them about two years ago. Sean originally had 4 chickens (that he purchased for just $15 in Lakewood) but one of them got sick last year and they lost her. Now they have three-- Sha-Nay-Nay, Felicia, and Rosie. Sha-Nay-Nay and Felicia are Rhode Island Reds, and Rosie is an Ameraucana chicken.
The girls basically just hang out all day in the back yard when they're not busy laying an egg. They like to wander around and eat a lot of bugs. When they aren't eating bugs found in the yard, Sean feeds them grubs that they absolutely love, and that is basically just pure protein.
Chickens molt about once a year, so be prepared for some serious feather clean-up if you decide to get some for yourself. Along with all the eating of bugs comes a lot of chicken droppings. This makes great fertilizer but is also a good deal of work to clean up.
Fun fact: chickens lay eggs with the sun, so they will get more fresh eggs during the summer months than winter months. Sean said that this past winter was one of the first times they actually had to go buy eggs from the store since they got the chickens.
The Chicken Coop Set-Up
Sean and Bong already had a nice garden where they grew most of their produce, but there was room for a couple of chicken coops as well. He had a friend build a large one which is where Sha-Nay-Nay and Felicia live, and Rosie has her own smaller coop to sleep in nearby.
One of the main reasons that Rosie gets her own coop is that she was injured a while back, and when one chicken is injured the others will pick on her. During this interview, Rosie also decided to do her own thing and lay an egg in a planter rather than her coop. Whatever works!
Another reason it's important for the chickens to have proper shelter is because of predators like raccoons, coyotes, and hawks. Sean and Bong have a nice high wall around their yard so coyotes aren't really an issue, but they do keep an eye out for the other two. The chickens roam around outside all day long, and then they know to go inside their coop to sleep at night.
They Have Fun Personalities
Sean described his chickens as like pets but not, but when they lost the one from an illness it was still very hard. They are silly little birds with very comical personalities. Their feathers are soft and have a really beautiful pattern, and you can pick them up and hold them if you want, too. Zoe the "guard dog" keeps a close eye on everything too. Just like having any kind of animal at your house it's extra work, but totally worth it for the farm fresh eggs, and also peace of mind that you are giving some chickens a happy and healthy life.