5 Female Chefs Doing Amazing Things in Long Beach
The Long Beach foodie scene has been blossoming the past few years, and these women have been trailblazers through it all! Learn more about them, their food, and check out their restaurants to try it out for yourself!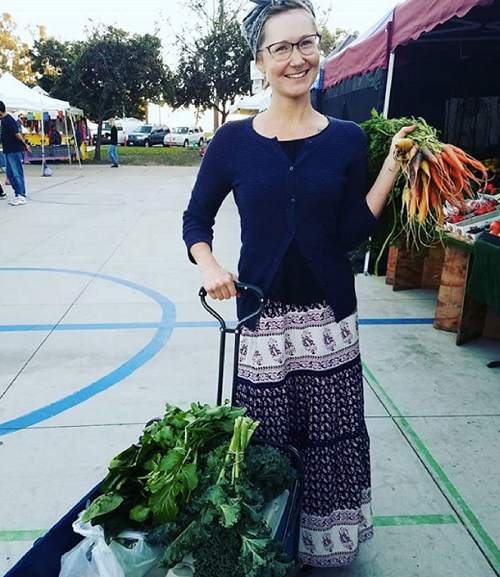 Chef Kat McIver, Wide Eyes Open Palms
Chef Kat is the Chef-Owner at Wide Eyes Open Palms, specialty coffee and seasonal food cafe on Cherry Avenue, just off 4th Street Retro Row. She shares this business with Angie Evans, her partner in life and business. Growing up, Kat was known in her family as the "picky eater," but now sees that as having a naturally refined chef's palette. Kat went to college and earned her master's degree in political science and this where she really learned about trade and food politics, and some of the issues that our culture was facing with them. Kat opted not to go to culinary school but follow her food-focused passion in a different way -- by working her way up. She started working in restaurants in the front of the house but knew that she really belonged in the kitchen. Her friend and chef-owner of Good Girl Dinette, Diep Tran, gave her that chance. She started by picking cilantro, then rolling egg rolls, and kept working her way up.
Kat and Angie noticed that something was missing in the restaurant world, and that was a place where you can go to get both amazing coffee and equally outstanding food. Before you would have to choose between either fine dining, or a prime coffee shop experience. Wide Eyes Open Palms combines these two. Chef Kat keeps her menu fresh and seasonal - out of both choice and necessity. It's a very small space so they have to be smart about the food they are ordering (there's a farm-fresh delivery most days of the week), and Kat also believes that she is nourishing her guests at a higher standard when everything is seasonal, locally sourced as much as possible, and always fresh.
You can find Kat at www.wideeyesopenpalms.com/ and on Instagram at @wideeyesopenpalms.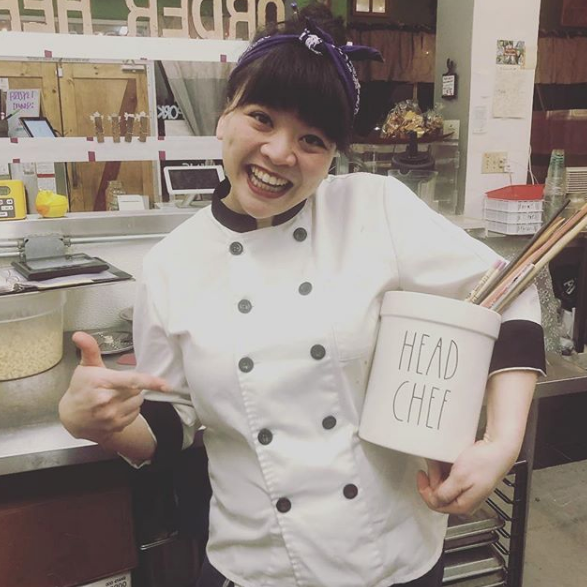 Diana Vu, Chef-Owner of Lacquered
You can recognize Diana's restaurant on Broadway by the huge cleavers as door handles. Inside it's a true mom and pop vibe (literally, her parents help her out every day), and the food she is serving is something really special. Diana was born and raised in Orange County. She went to college at Cal State Long Beach and then to culinary school in Pasadena. After only her first week at culinary school, she was hired by Wolfgang Puck and spent 10 years with him. She started doing salads there and worked her way up. Some advice she has to give other women who want to make it in the male-driven culinary world is to work hard. It sounds simple, but it's very effective. Smile, but keep your head down and eyes open. Start to notice the details that your male counterparts might be overlooking, and eventually you'll be surpassing them.
Lacquered is still in its first year of operation, and after a couple "low points" during these first few months, Diana has nothing but great things to say about how amazing her Long Beach community is. People came in to help when she needed it, girls from the bar next door (Club 36/36) would wash dishes, and she's made it through.
Diana is an avid farmer's market shopper, so her menu focuses on fresh, local, and seasonal ingredients. They are famous for their Vietnamese-inspired dishes, organic rotisserie chicken, non-GMO pork ribs, clean California flavors, and delicious vegan options.
You can find Diana at her restaurant all the time and on Instagram @lacqueredrestaurant.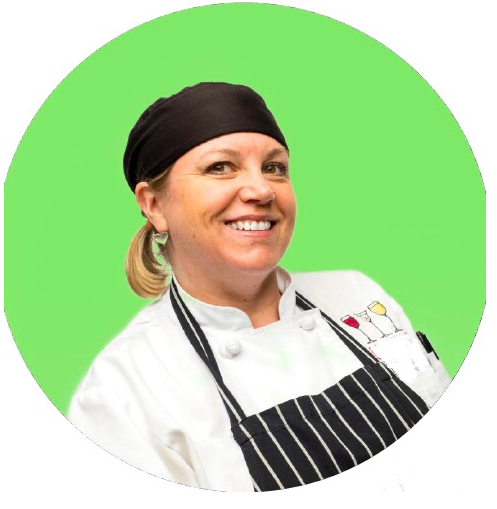 Chef Louise Solzman, Chef at Chef Louise Catering & Executive Chef of Table 301 Bistro
Chef Louise was raised in the United Kingdom and has been cooking with her mother and grandmother since she was a little girl. Unlike some of the food that England has a reputation for, Louise was raised with fresh, homemade foods like Sunday roasts with potatoes cooked in duck fat (the only way to cook a potato, as she says), and always fresh and seasonal ingredients. This is the thinking behind the food that Louise makes now. She never went to culinary school but was just meant to be in the kitchen. Early in her career, she worked at a catering company and it was only six weeks after she started that job that she was promoted to kitchen manager. After owning and operating a Delius, a successful local restaurant for many years, Louise and her husband are on to their next project, Table 301 Bistro on the Promenade in downtown Long Beach.
Like the food scene in Long Beach, her food has been evolving over the years. In her catering company, she is focusing on healthier options because many of her clients are gluten free, paleo, vegan, or just want some healthy but equally delicious options. If clients have a garden, for example, Louise will pop in a day or two before she comes to prepare a meal for them to see what's growing and what fresh products she can use in her menu.
At Table 301, the menu is full of unique and creative dishes inspired by a variety of different cultures and food styles that can be ordered individually or as shared plates. Everything on the menu is outstanding, and some of her favorites include the Branzino Crudo, Chicory Salad, Mushroom Pizza, and Sticky Toffee Pudding. It's a fun and casual atmosphere with games like corn hole, Jenga, and connect four, balanced by really high-quality food and beverage. The outdoor seating area is a perfect spot to order some appetizers and cocktails, hang out, and enjoy Long Beach.
You can find Chef Louise on Instagram @cheflouisesolzman and Table 301 at @table301bistro.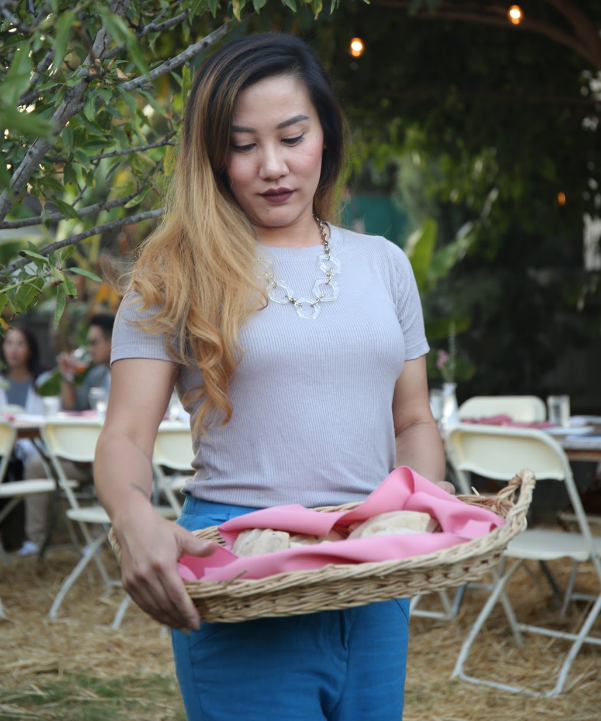 Khanh Hoang, Company of Khanh
Khanh is a local chef who creates culture pop-up events for the community. Each of the pop-ups features a different cultural cuisine that many of the guests have never experienced before, and some of the recipes Khanh herself is trying out for the first time on the night of the event! (Very brave.) Khanh's day job is a nurse, which she has been doing for 9 years. It was here that she discovered that she doesn't agree with how people in hospitals are being fed because they are not given the options to eat the foods from their culture that they have been eating their whole life.
This sparked a curiosity in Khanh to explore cuisine from cultures around the world and expose more people to them. Her pop-up dinners and community gatherings do not bring in profit. They are meant to be a way for the community to gather, get to know each other, learn about other cultures, and discover new flavors and cuisines that they have never tried before. This also helps them be more aware of what's out there and might inspire them to eat at that Ethiopian or Turkish restaurant they have seen over and over but might have been nervous to try because they wouldn't know what to order. Her meals help support our community by building personal connections and helping us learn that we are typically more similar to each other than we are different.
Khanh also does catering, and you can find her on Instagram @companyofkhanh or at www.companyofkhanh.com/.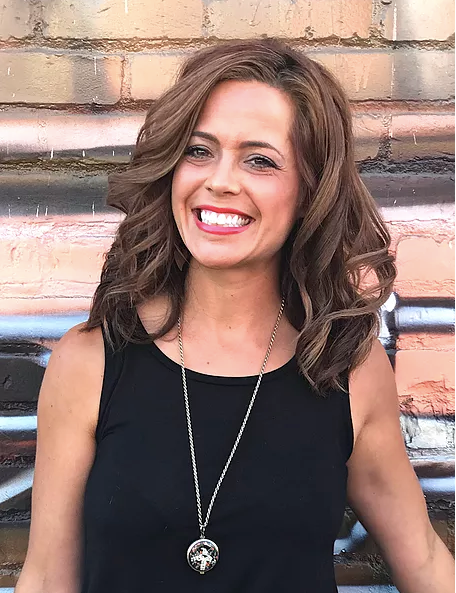 Melissa Botten, Healing in Heels
Melissa is a local holistic nutrition and yoga teacher. In terms of being a chef, her focus is helping her clients look at their health in a holistic manner and using food as medicine. Her passion and career all blossomed from some very unique experiences in her life, and she was her own first client. Growing up in Montana, she would eat family meals regularly and her father was a hunter (as was the case with many people in Montana) so he would bring home a deer every year for the family to eat during the following months. It was tradition and she ate what her parents served her, but always knew that deep down she wasn't meant to consume animal products. After some very traumatic experiences in her life, she found herself sick, overweight, and with serious bunions on her feet. Doctors told her that her only option was surgery but she didn't accept this and started dosing herself with turmeric and cherry juice to reduce inflammation. She cut out dairy, sugar, and alcohol, and after 30 days her swelling went down, and after 60 days, her "bunions" (it was actually inflammation) had gone away entirely.
A friend asked her to help someone else who was severely ill, battling a mass in her lungs, and Melissa was able to change her diet and naturally cause the mass to disappear. And her clientele grew from there. She does consultations and personal meal plans, along with some personal cheffing. Her food is naturally sourced, organic, seasonal, and delicious. Melissa loves creating comfort foods that people are used to eating, but she will create healthy, vegan versions of them. Garlic, basil, pistachios, and sweet potato are some of her favorite go-to ingredients.
You can find Melissa at www.healinginheelsla.com/ or on Instagram at @healinginheels.