2nd & PCH Development Update
It seems like the past year (or even longer) has been a time of never-ending of construction and large developments all around Long Beach.
There are new condos Downtown, talks of Angel Stadium being next, brand new bike lanes on Broadway, and of course the brand new shopping center going up at 2nd and PCH. If you have driven by the site recently you have probably noticed the new white facade facing the road, and an aerial photo found on their website also shows that the roof looks pretty complete as well. They had originally hoped to open this summer, but have since pushed that date back to late October. If that schedule holds, it will be open before the holidays so we can have some brand new places to shop for gifts.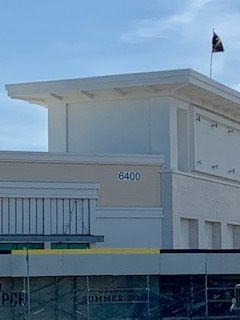 It has an Address
For those who live or work near the corner, the center will provide convenient new places to shop, dine, explore, and just hang out in. Residents who live near the development are looking forward to a new place for the community to gather and enjoy together. There will be a fountain that will be a perfect break-time setting, and a casual area overlooking the Marina where everyone can take in the scenic waterfront views. The space will have free Wifi and offer both indoor and outdoor casual dining areas for groups of all sizes.
Fitness Classes for All to Try
The developers have announced that there won't be a large traditional type gym, but a few different boutique type fitness studios instead. These are becoming more and more popular, especially in our area, so it's fitting that this state-of-the-art facility will follow along with that trend. Fitness buffs can look forward to having some fun new spots to take their cycling class, yoga class, and body shape class.
Enjoy a Dinner with a View
To take advantage of the beautiful views all the way to Catalina on a clear day, the plan is to feature most of the dining options on the top floor. Some of the more casual options, like the highly anticipated Shake Shack will be located on the ground level for more easy access. Ola Mexican Kitchen is another fast-casual option planned to open, and a new Vegan Mexican food joint called Tocaya Organica.
Shopping and State-of-the-Art Salons
The full list of retail stores has yet to be released, but the ones that have been announced are setting the tone for a lot of really great options. Linne's Boutique is coming to us from its original location in Seal Beach. Holly & Hudson is the place for both men and women to go for some mani-pedi pampering. Cotton Blow Dry Bar will be delighting customers to the best Brazilian blowout in town, and the well-known "Boho Chic" store Free People will be in the complex as well.
It's a Great Time for Long Beach
All of these new developments are making it a very exciting time to live in Long Beach. We are looking forward to the opening of 2nd and PCH and welcoming all of the new businesses that will be opening their doors very soon.